BACK
Best Practices

|
Read
6 Powerful and Unique Ways MSPs are Using BrightGauge
Amanda McCluney October 5, 2018
For many MSPs, BrightGauge is their secret to success.
They rally around dashboards on 60" TVs in their NOC and use reports to keep the team rowing in one direction.
These MSPs have a leg up on the competition and use the enhanced insights we provide to become more efficient and profitable than ever before.
Some MSPs are using BrightGauge in new, innovative ways, and are getting massive benefits because of it! Here are some of the powerful and unique ways they are using BrightGauge:
1. Reactive vs. Proactive Ticket Close Time by Engineer
Kevin Studley, from The Network Pro, tracks how long it takes his engineers to close tickets by type. Most MSPs use this metric to identify coaching opportunities, but Kevin goes further:
By looking at which tickets are closed fastest, Kevin is able to find the best team for each engineer. These days, engineers at The Network Pro spend 15 minutes less on each ticket, saving him 3 hours a day per engineer (on average).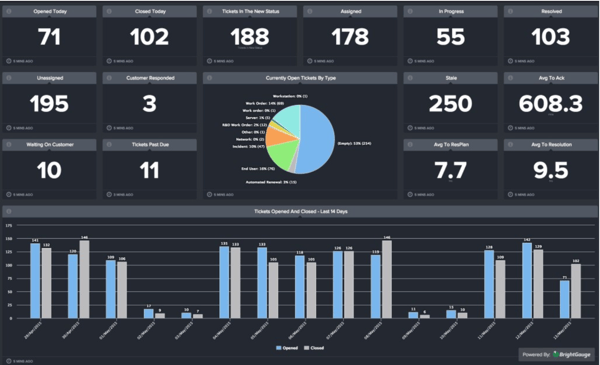 2. Technician Dashboards
Kevin uses technician dashboards to keep engineers more organized and effective. Each engineer has their own dedicated dashboard which allows them to see how they are performing and what they need to focus on. As a bonus, displaying the metrics on the computer has cut back on paper usage!
3. Progress Towards Goals
Brian David, from Lloyd Group, uses dashboards in a big way for their management teams.
He's set up dashboards that track operations goals and revenue objectives using thresholds. Thresholds are number gauges which show whether the team is on track by turning green, amber, or red.
Brian stopped needing to log in to ConnectWise once they started using BrightGauge this way. All the metrics he needs to manage the business are available right in BrightGauge!
4. Project and Team Management
Brian also uses BrightGauge to handle project management tasks. He sends weekly reports on Thursday and Monday which highlight any incomplete tasks and areas which need focus.
Using BrightGauge's reports, he's been able to get his employees to be more focused and to work on the areas and tasks that are most important. If an employee isn't able to improve, Brian is notified and he can sit down to coach the employee.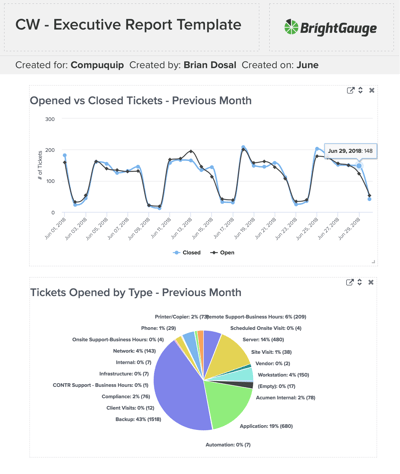 5. Financial Data
Will Collins, from Network Solutions & Technology, monitors almost all financial metrics in BrightGauge. Will uses BrightGauge to measure metrics like all revenue streams, employee costs, and profitability.
This has helped him to ensure that their financial trends stay positive.
6. Employee Accountabilities
Will also uses BrightGauge to track employee accountabilities. NST uses an accountability based bonus structure, so it's important to track every detail.
With BrightGauge, it's much easier for Will to know when an employee should get a bonus. It's also easy to identify and help employees who aren't meeting their accountabilities. This has led to increase in employee utilization.
For more BrightGauge uses, check out our Customer Case Studies.
Note: this post was originally published in 2016 and has been updated for accuracy.
Free MSA Template
Whether you're planning your first managed services agreement, or you're ready to overhaul your existing version, we've got you covered!