BACK
Culture

|
Read
Behind the Scenes at our First Beer-Brewing Adventure
Amanda McCluney February 5, 2016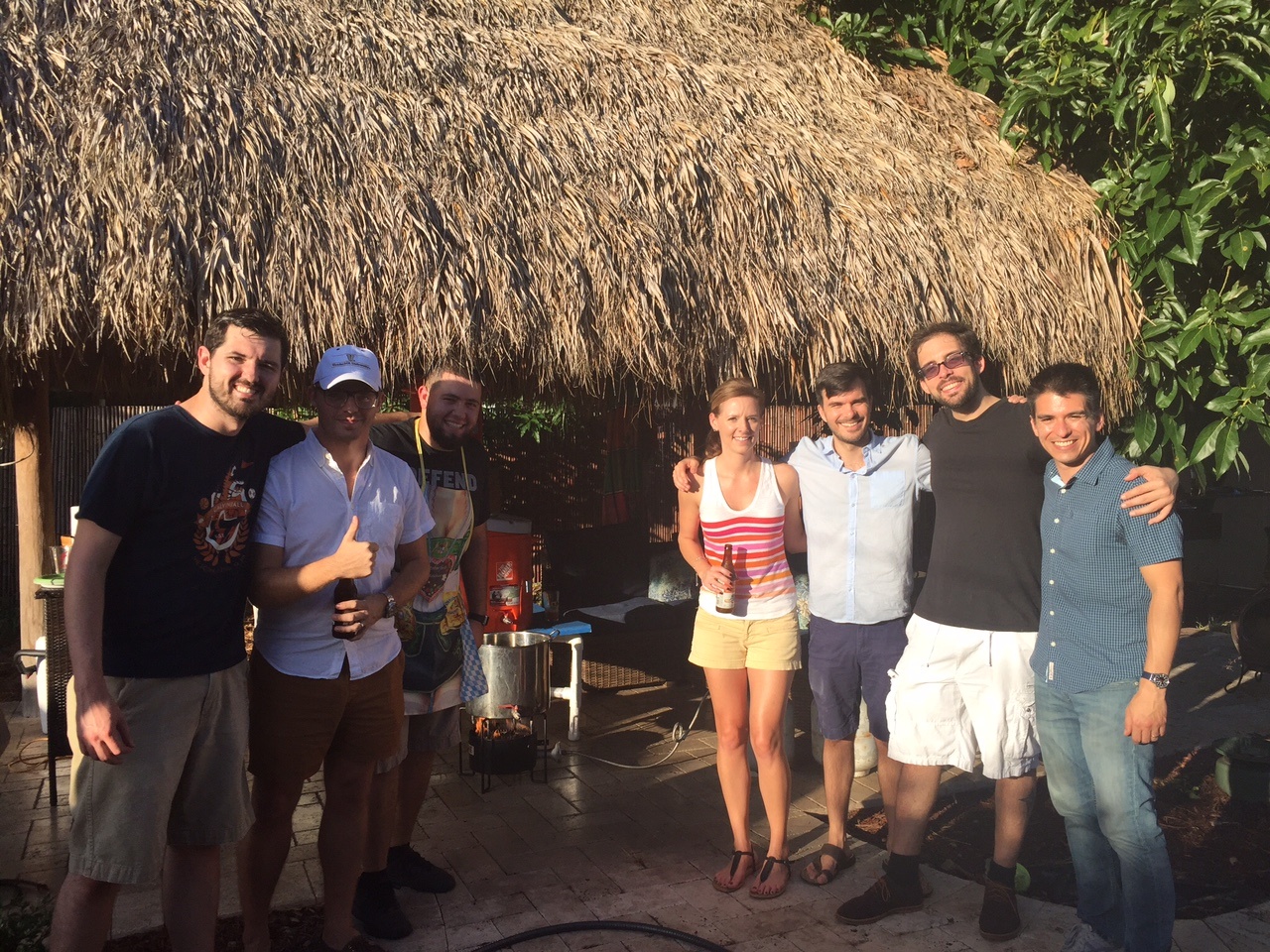 For months over the summer and fall of 2015, we were counting down the weeks until time to move into our new office space, better known as BrightGauge HQ. We were very excited to have a space that's almost doubled in size, but our new home came with some pretty cool fun stuff too... one of those items being our new triple-tap kegerator (and wine refrigerator too!). We host Happy Hour for our team each Friday afternoon and everyone loves checking out different craft brews, so when it came time to pick 3 inaugural brews it seemed like we were mulling over our choices for ages.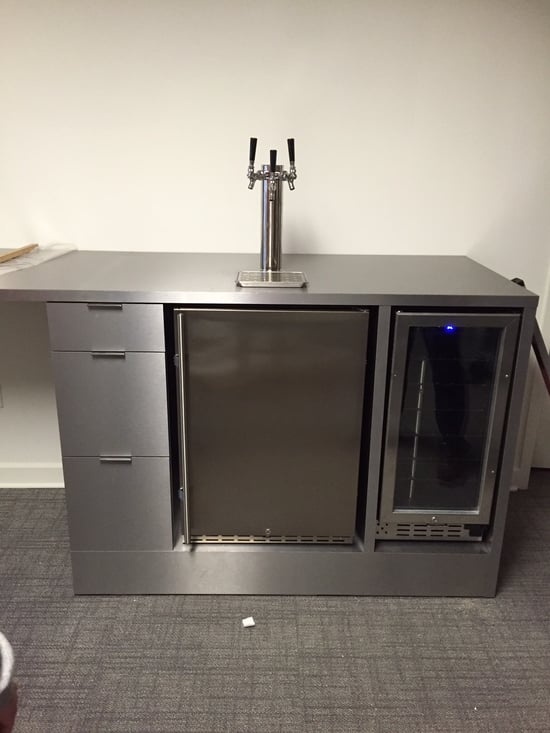 our kegerator when it first arrived
Then our teammate, Kristian, offered an option that left stars in our eyes… why not just brew one of our own beers to kick things off? He quickly offered up help from his sister who works for a local distributor, assuring us that she had the expertise and equipment we would need to make it all come together. Long story short, we leaped at the opportunity and set to planning a Saturday brewing event that would also include a barbeque - because this crew loves to chow down just as much as they enjoy a cold brew.
First things first
We met up one Saturday in the beginning of November: a gorgeous, sunny, Florida day - perfect by any standards for an afternoon of outdoor fun. We had selected a Wheat Ale as our first homemade brew because it's something that just about anyone could enjoy. Everything started with a serious amount of cleaning and then sanitizing for each piece of equipment that gets used in the process, no matter how big or small it is. As we learned, cleaning and sanitizing is a big focus throughout the whole brewing process because any debris left on the equipment could mean bacteria that will spoil a batch of beer. No way were we going to let that happen!
After we were rockin' and rollin' with sterile gear, the next step was to fill our brew kettle and heat the water to just the right temp so that we could add milled malt and our first batch of hops. Then it was time to fire up the kettle again and let the mixture boil for an hour.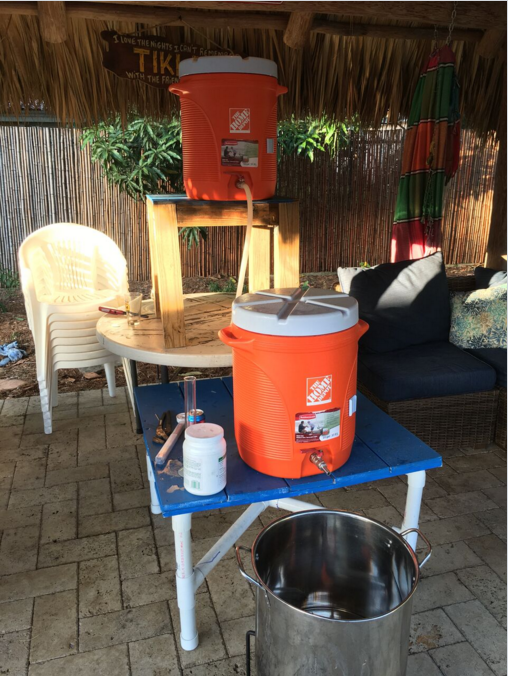 The start of the brewing process
While we're waiting
Those first couple of steps may sound like an easy and quick process, but in fact it took a while for the heating, stirring, and then boiling. So in the meantime, we got started on our barbeque. Kristian and his family are excellent hosts so they had snacks and beers galore for us to chow down on in between brewing steps and watching the University of Miami football game. But this is an active group, so sitting around and hanging out only occupies us for so long. It was time to bring out the corn hole (some of you may know it as bean bag toss) and giant Jenga for a little head-to-head competition.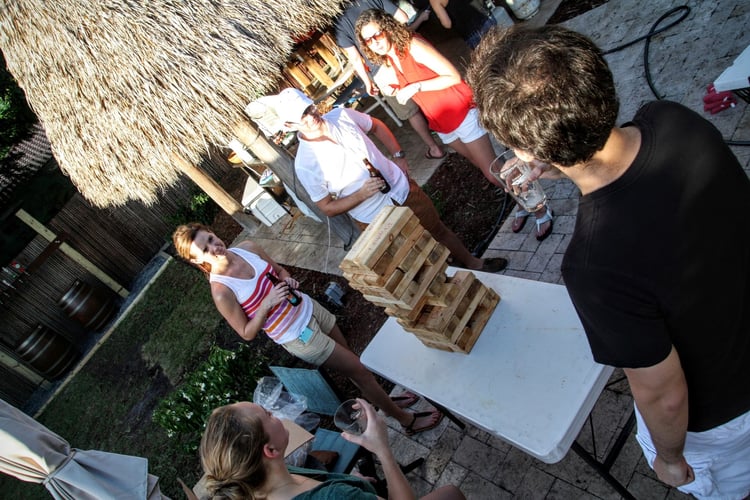 Amanda, Ryan, and Rick face off with a few other guests in an epic Jenga battle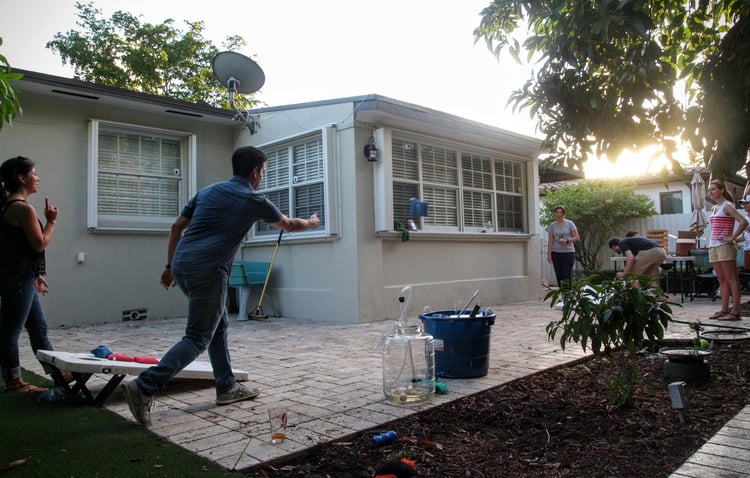 Steve takes aim during corn hole/bean bag toss
Things are heating up
After a few rounds of games, it was time to add the second portion of hops to give our beer some hoppy aroma. Once the boil was complete, we had created a mixture known in the brewing world as "wort". Then we transferred the wort to a lauter tun (just imagine a really big pot) with a false bottom so that the grain could settle in the bottom of the tun, creating a filtration bed to capture all of those solid particles. Are you impressed with our weekend warrior project yet?
Again, the filtration took a little time but then it was on to clarifying the wort which was actually a fun process because literally all of us had to be involved at this step. The clarification is a manual process of transferring the wort between the tun and the kettle many times, so we lined ourselves up with pitchers to catch the runoff before dumping each pitcher back into the mix. If you've never brewed before, that description may leave you scratching your head, so here's the process in action: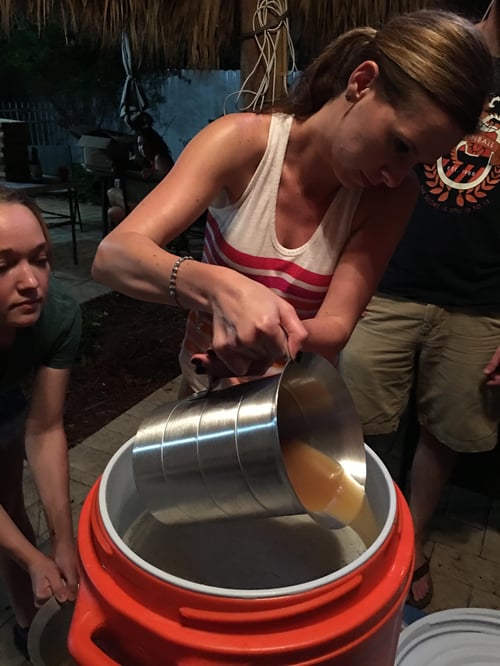 Getting started on clarifying the wort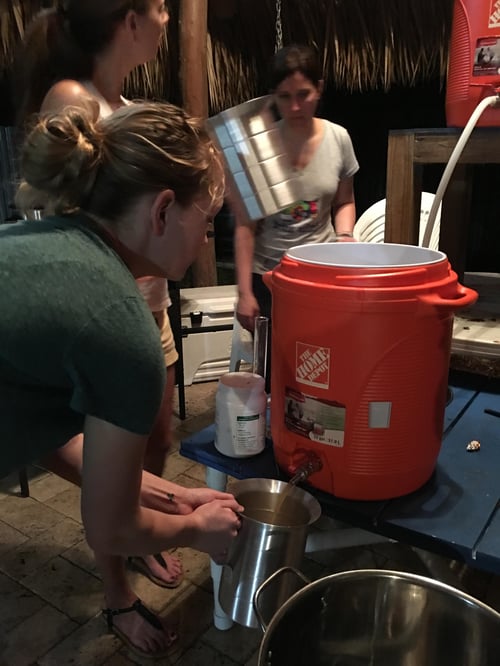 it takes many rounds to complete...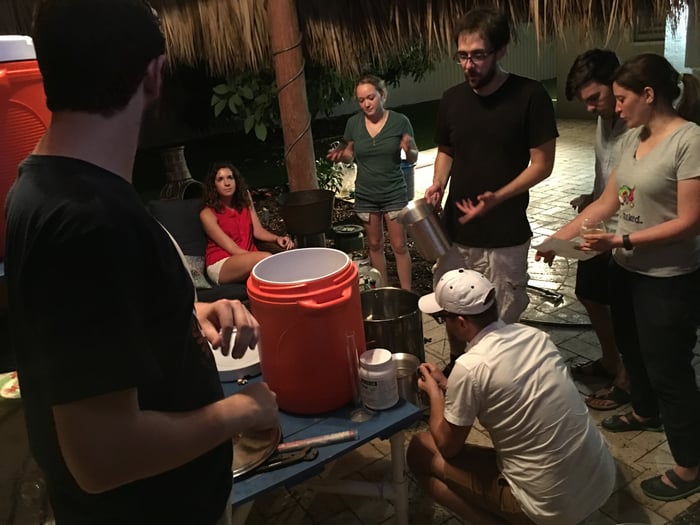 ... so we get everyone involved
The cooldown
When the mixture was finally running clear, it was time to cool everything down as quickly as possible. The liquid was run through a wort chiller to ensure that temps would fall to somewhere between 75-80 degrees on its way to a glass carboy (think really large glass jar). We added the yeast to the mixture and since we needed to make sure everything inside was agitated and mixed really well, a few of us took turns dancing with the carboy like so: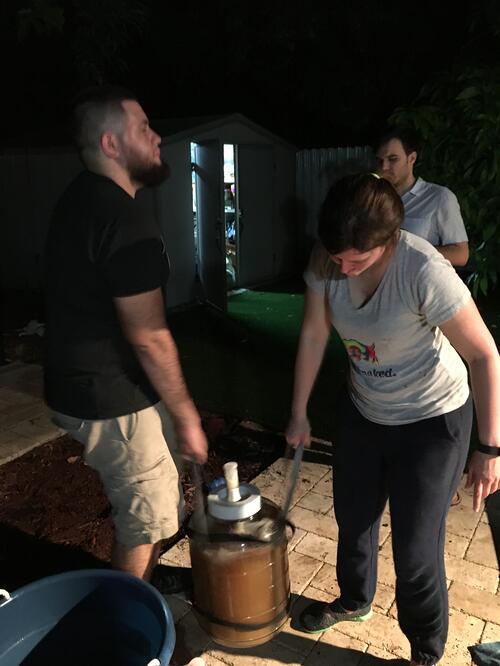 agitating the yeast and we're almost done...

When the mixing was complete, it was time to store the carboy in a cooler for 2 weeks so that it could ferment into our final product. After the fermentation, we filtered and transferred the beer into a homebrew keg and used a CO2 tank for a little forced carbonation for about 4-5 days inside the cooler. Trust us the wait is worthwhile… we tasted the wort before it initially went into the cooler. Flat, unfermented wort is a long way from the final tasty product we all know and love.
Drumroll please...
We were in suspense for a few weeks after this point… would we have the awesome final product that we had worked so hard to craft? Or would it end up as a fun day with no results to show for all of our hard work?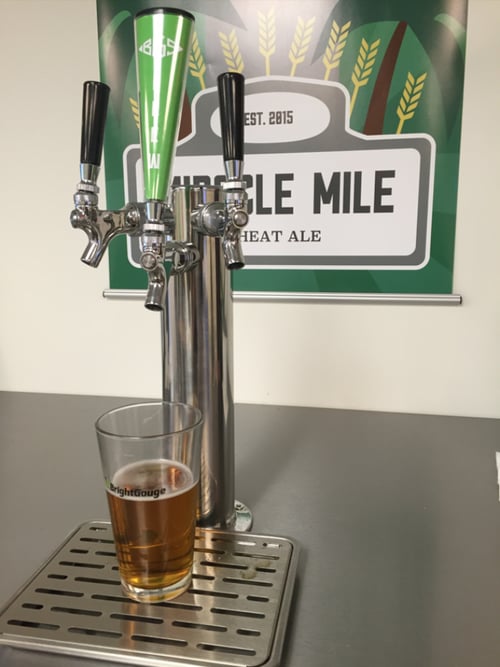 presenting Miracle Mile Wheat Ale
We think the photo speaks for itself! Our brewing adventure turned out to be one for the books and we unveiled our keg not long ago at one of our weekly Happy Hour sessions. Not only was this experience a great way to help our team bond outside of the office, but we can also promise that beer tastes even more refreshing when you've put the hard work into brewing it yourself. Cheers to that!
Want to see more of the BrightGauge Brewmasters in action? Check out all of our brewing adventure in our Facebook album.
Free MSA Template
Whether you're planning your first managed services agreement, or you're ready to overhaul your existing version, we've got you covered!