BACK
Customer Success

|
Read
Customer Stories: Cards Technology Extends BrightGauge to their Customers
Danielle Ungermann August 13, 2018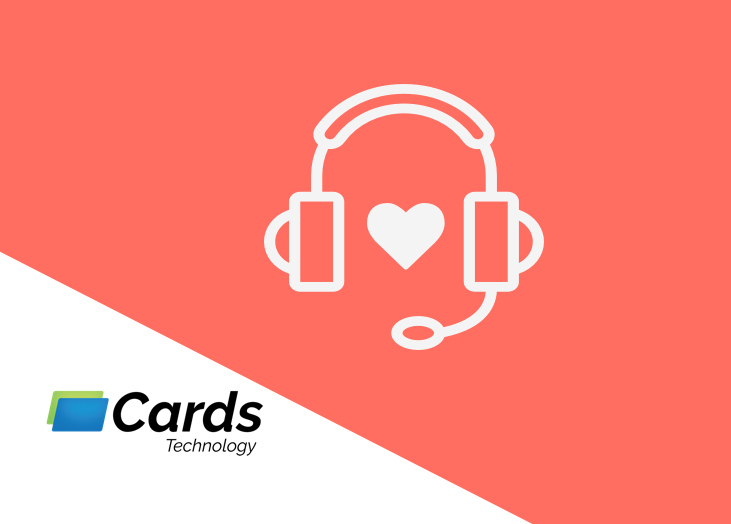 In business since 2000, Cards Technology started out as a computer repair shop and system builder. As the years went on and the IT industry continued to evolve, they made the switch to full IT Services provider. Today, they focus on infrastructures and database management.
Joining BrightGauge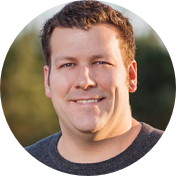 Cards Technology first came across BrightGauge when they were looking for a way to supplement the work they started in Connectsmart. Within 30 minutes of getting connected, Sam Card, the CEO of Cards Technology, was able to create his first custom dashboard in BrightGauge.
"When we first tried BrightGauge, our goal was to see our metrics in one place and to get our KPIs in front of our team. We were able to get started up with BrightGauge pretty quickly, and with ease. I have other employees who know nothing about database queries and they got in there with no trouble."
After learning of BrightGauge's connection to Kaseya and Quickbooks integrations, lots of lightbulbs went off for Sam and his team. They went deeper in their Advanced account, working with the data mashup between gauge layers to make their metrics and data do the work for them.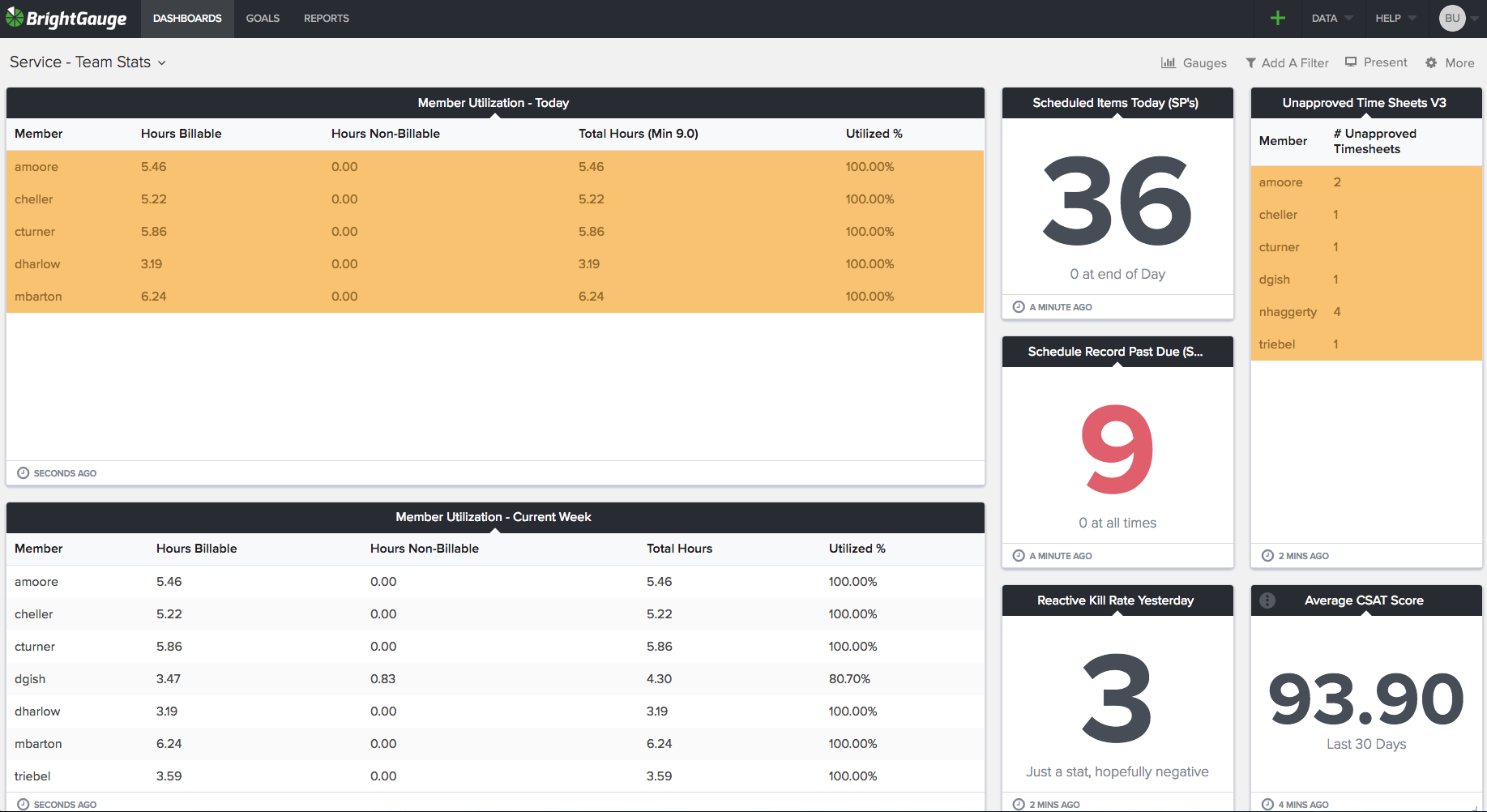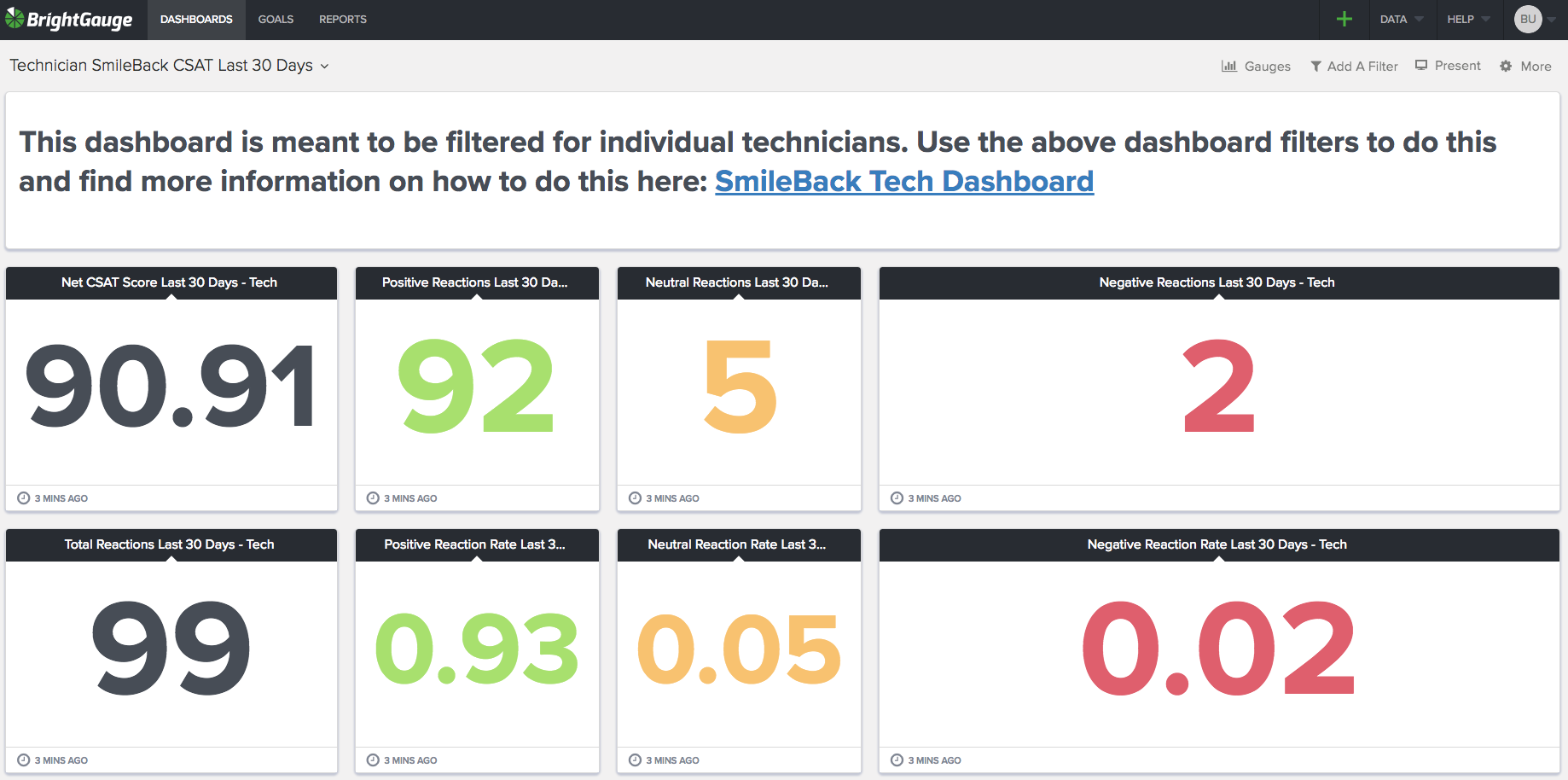 They also use Smileback quite a bit. Each week, they run an analysis of service tickets and how much time they're spending on each. For example - 4 hrs on printer issues and 10hrs on workstations. They then ask themselves how to get those numbers down, and then measure the actions taken vs results of such.
Cards Tech has 6 TVs spread across the office to track their KPIs and monitor tech performance. Each tech gets an extra boost in compensation based on their performance.
Customizing BrightGauge for the Customer
Since launching back in 2012, BrightGauge has mainly served IT and MSP companies. In recent years, some of our customers have started to ask, "how can we extend BrightGauge to our own customers?"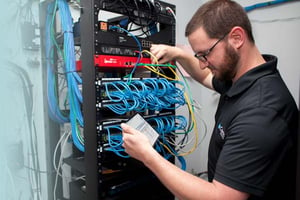 Sam came to us to see how we could create a BrightGauge account for one of his clients who was using a datasource that had yet to be added to our list: Aptora. A software used by HVAC companies for tracking techs and managing their business, Aptora has a couple of products. BrightGauge integrates with Aptora's Total Office Manager.
Both Sam and his customer instantly saw the benefits of taking two otherwise disconnected systems, and creating dashboards and metrics to bridge the data points across their tech stacks.
"With BrightGauge, we get better reporting and metrics out of PSA software that otherwise you can't easily filter for in other programs. It's great that you have filled that need."
Their Go-to Tracked Metrics
Number of endpoints in Kaseya and divided by revenue logged in Quickbooks
Measure agreement efficiency -- measure breakdown of agreement by client

Free MSA Template
Whether you're planning your first managed services agreement, or you're ready to overhaul your existing version, we've got you covered!