BACK
Customer Success

|
Read
How Our Answer Bot Can Resolve Your Support Requests
Susan Perez October 17, 2018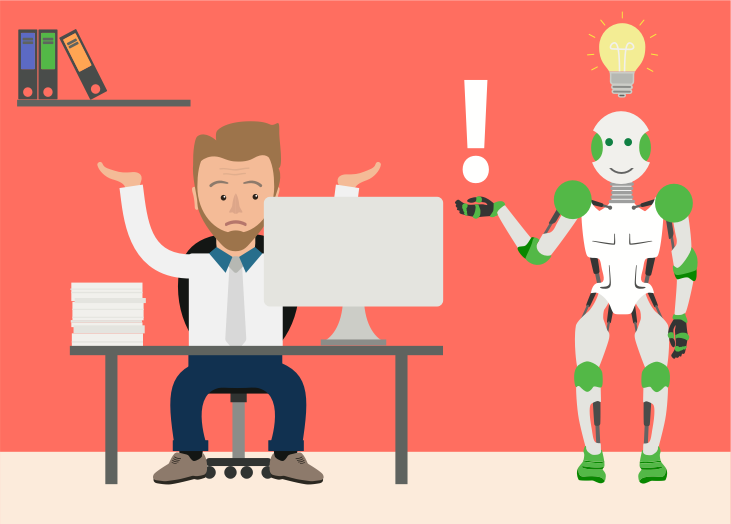 Usually, we consider it a sin to use "automated" and "support" in the same sentence. But bear with us here.
The truth is, we do offer an automated support service in the form of an Answer Bot, and you'll probably be pleasantly surprised by it!
Read on to see how our Answer Bot can help resolve your questions quickly and accurately.
How Answer Bot works in replying to support tickets
If you're working in your BrightGauge and you get stuck on something - whether it's figuring out how to build a data mashup gauge, how to create impactful ConnectWise reports, or how to properly set up client mappings - you can always feel free to submit a support ticket.
Shortly after you submit, you'll get a reply from us that acknowledges receipt of your request and lets you know our hours and that we'll get back to you soon.
You may or may not realize, but that reply also includes links to articles that may answer your question.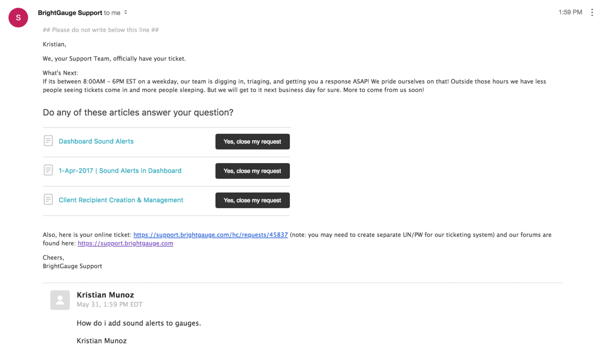 This is thanks to our Answer Bot. Our little robot friend has been trained to seek out 3 relevant articles per every support request that comes in. Our techs are constantly monitoring the Bot's choices and teaching it to become smarter over time.
If one of the Bot's articles answers your question, awesome! You can click to close your request.
If the Bot didn't get it quite right, no worries. One of our techs will reach out to you real soon to get to the bottom of your issue.
Why use an Answer Bot?
We do this because we want you to get your answers as quickly as possible, so you spend less time waiting around and more time getting the data you need.
It's all about making things as easy as possible.
Other support resources
Did you know that our site has lots of other resources that might be able to help you figure out your issue without needing to submit a ticket?
Our Knowledge Base is chock full of articles meant to help you. Anything from Dashboards 101 to how to calculate Client Efficiency Index for ConnectWise Manage can be found there.
We've got training videos if you consider yourself more of a visual learner. You can find a free podcast, webinars, whitepapers, and case studies that reinforce your use of data.
Our blog is full of useful articles, tips, and tricks that can help you get the most out of your BrightGauge.
All that being said, we really do love getting your support requests. It helps make us sharper and helps us get to know you better, too. Plus, if we're receiving a lot of the same request, that lets us know that it might be time to update or add a feature. So, don't be afraid to reach out to us if that's what works best for you!
Anytime you've got an issue, just head to our Support page to get what you need (cue Friends theme song now).
Free MSA Template
Whether you're planning your first managed services agreement, or you're ready to overhaul your existing version, we've got you covered!