BACK
Customer Success

|
Read
Introducing our Data Customization Team
Eric Dosal July 14, 2015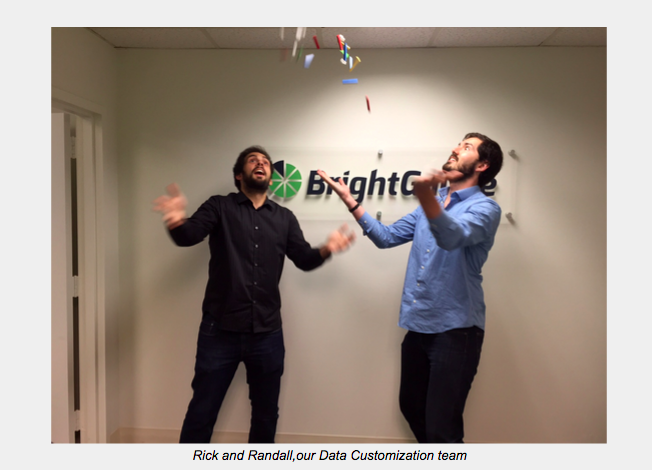 If you're a regular reader of the BrightGauge blog then you know we've been making a lot of investments in our team lately. Since April we've grown from 7 employees to 12 full time plus we're looking for lucky #13 (Front End Developer). This was a decision Brian and I felt was critical to make now as we felt the timing was right to take the company to the next level. So we hired Kristian in Support, Lisette in Support (short term), Amanda in Marketing, Jason in Product Design, Adam in Product Development and promoted Larry to Director of Sales and Orlando to Director of Engineering.
One of the most exciting investments we made was our newly established Data Customization Team made up of our former Support Guru Randall Berg and a new team member Rick Aquilia who joined us in May. The Data Customization Team's one and only mission is to help our customers get the data they need the way they want to see it in BrightGauge. That's it!
Why Invest In Data Customization

After doing an in depth analysis of why customers end up leaving us, we found the biggest reason is "No Time To Implement / Not Using" (spoiler alert: this is usually the top reason any SaaS company loses customers). Rather than accepting this as a norm we decided to ATTACK this challenge and help our customers get fully implemented. We know data isn't a "one size fits all" and as much as we build templates and default gauges, reports, dashboards it's never enough. Everyone still needs a little customization here and there. Well now we are staffed up and ready to handle this type of customization.

What we learned from talking with our Customers

As much as we try to automate, implementing a data analytics solution isn't "plug and play" and still requires involvement from our Customer. Our most successful customers are the ones that from the moment they start with us get BrightGauge fully implemented and customized the way they want to use it. The larger customers tend to have resources that they can dedicate to setting up BrightGauge versus the smaller customers who typically rely on our templates and defaults. Upon learning this we decided to make data customization available to every customer no matter whether they have the resources or not!

They are with you from the beginning...

Upon signing up with BrightGauge you will be assigned a dedicated implementation manager. This person is your single point of contact to get BrightGauge up and running. We don't just send you online documentation and make you wait in a support queue. Your implementation manager will work with you to make sure you get data flowing properly and then schedule time with you to provide one on one training and any customization you may need.

And available for you at any time...

As you get more and more familiar with BrightGauge you may want to make additional changes or add additional customization and our team is here to support you. If you have any questions related to your data, inaccuracy in what you're seeing, ideas you want to implement and don't know how, or maybe just to discuss any new best practices we have released, this team is standing by to help.

And we limit the investment you have to make to work with them...

A popular question we get is around the cost to engage our Data Customization Team, and the answer is: there is ZERO COST to engage with our Data Customization Team. Full disclosure, the team is focused on customizations of your current set up but we do have limits and if you're looking for some very unique customization or heavy SQL work we'll have to engage our Professional Services Team. The good thing is we don't do any work (billable or not) without your approval so as you come up with ideas please let us know.

The entire BrightGauge Team is committed to making our customers successful by helping them tackle business problems through leveraging their data. This is just one of the new and exciting ways we've implemented to make this happen. If you want to learn more about how our Data Customization Team can help you, please reach out to us via support and we'll make sure to set up a call with you.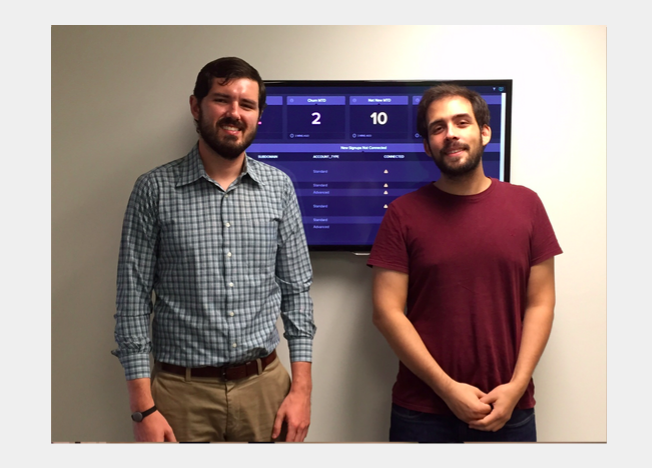 Free MSA Template
Whether you're planning your first managed services agreement, or you're ready to overhaul your existing version, we've got you covered!