BACK
Customer Success

|
Read
Meeting Hack: How Eating Together Maximizes our Team Collaboration
Amanda McCluney July 24, 2015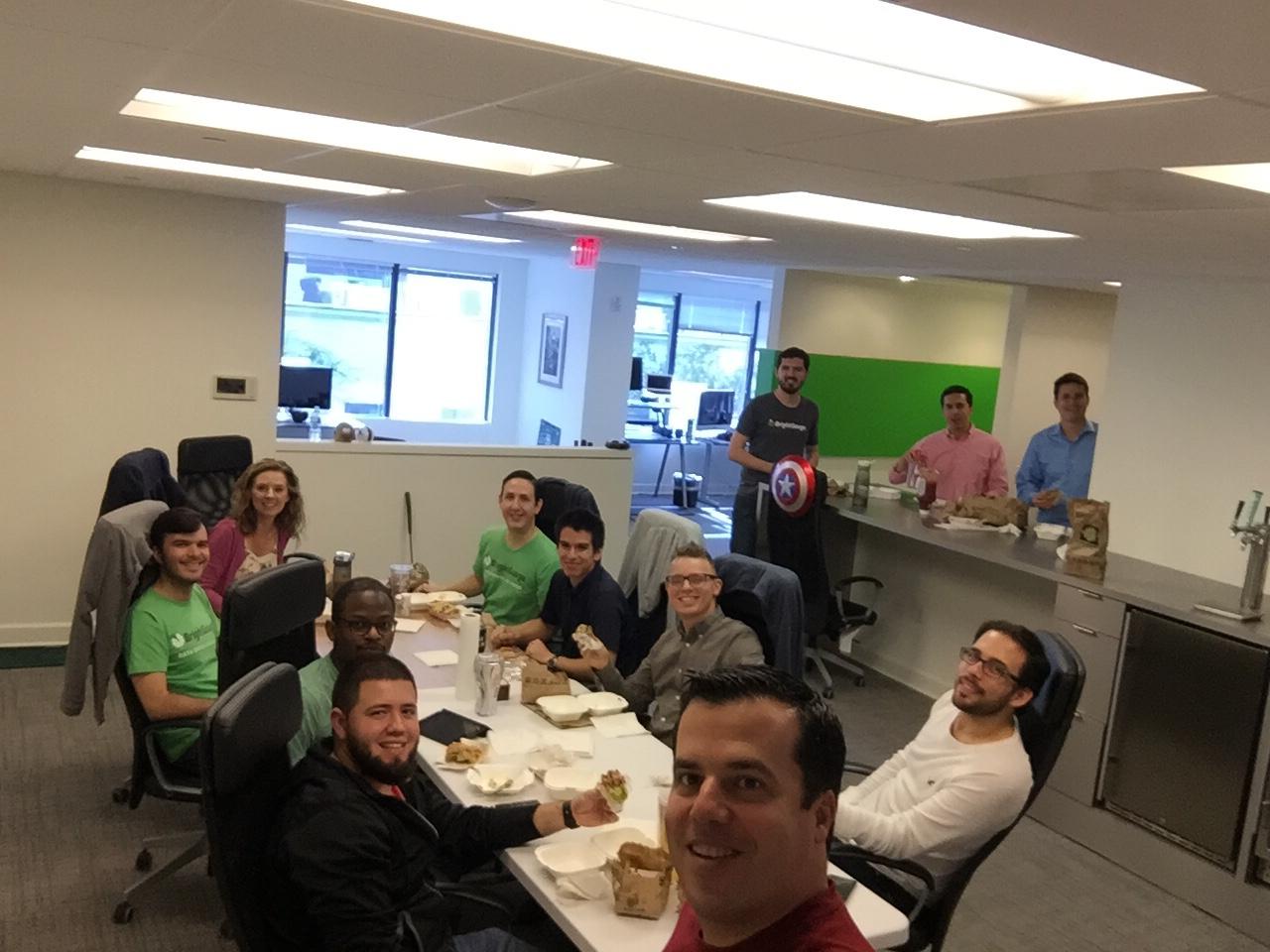 Every other week we round up the entire BrightGauge crew for a group lunch known as our Rambo Pizza meetings. In early 2014, we launched this regular group sync time as a way to share team updates without the boring stuffiness of a traditional style meeting.

We should point out that after consistently ordering Rambo Pizza every 2 weeks for several months, the team got tired of the menu and we've been going through food phases ever since (we currently have a pretty solid obsession with Chipotle). Fun fact: We've been in the process of nearly doubling our team this year and about half of our current crew has never actually had a Rambo Pizza at said group lunches. So while the menu has changed, we're sticking with the name.

With our team growing so quickly, the Rambo Pizza meetings are hugely important to us because we use this hour or so to ensure that everyone is on the same page about all things BrightGauge. One of our big focus points is the product roadmap; we recap the latest updates and feature releases but we also discuss what's coming up next. A few of our recent team additions are also new to the industry, so time for Q&A is encouraged here.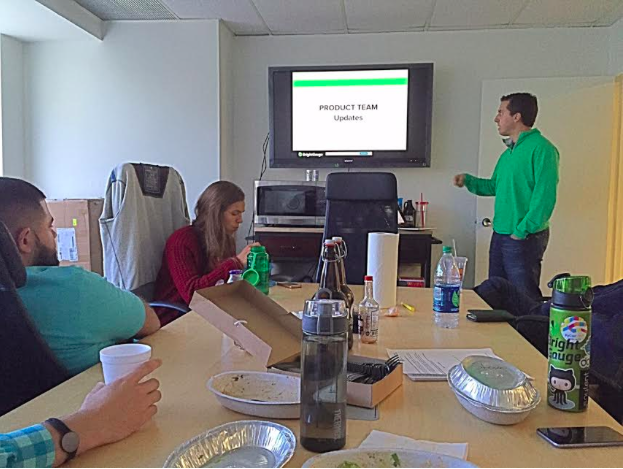 Brian shares Product Team updates

The product discussions always lead to a recap about what we're hearing from our customers. From their excited compliments to their questions, frustrations and even their suggestions, we cover it all. With our Sales, Customer Support and Marketing teams all interacting with different customers it can be a challenge to make sure that everyone gets all the feedback shared, so recapping all at once helps ensure we're all on the same page.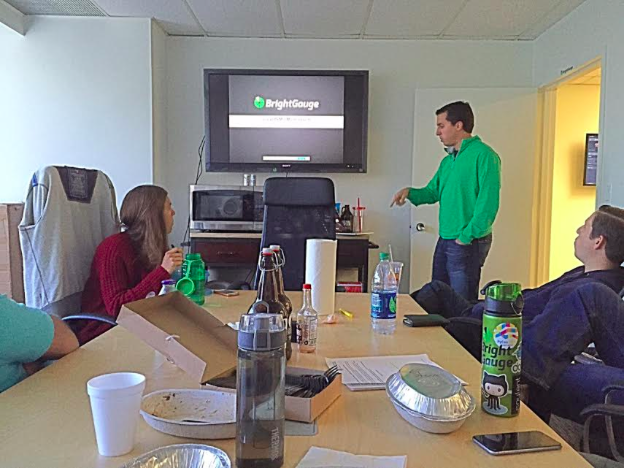 ... we take a moment for Customer Updates

Another big part of our Rambo Pizza meetings is comparing where we stand versus our team goals. Brian and Eric make sure to highlight a slide or two each meeting where they loop us all in on company growth, crunching our numbers (financials) and departmental metrics. Again, with so many new faces at BrightGauge, it's extremely important to us that we keep communication open about all aspects of the company.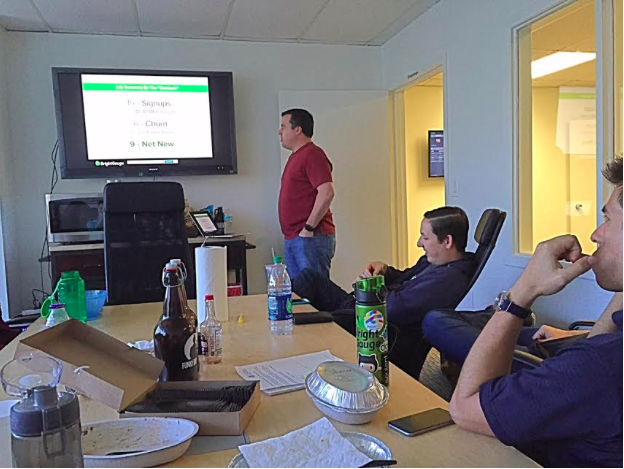 Eric shares Growth Team metrics

Closing out the presentation is probably the most-anticipated part of the meeting, but not because we're anxious to get away from each other. If you keep up with our team and know our personality, you've probably heard that we joke around often and even meetings aren't exempt from a good laugh. Our slide presentation wouldn't be complete without a giphy showcasing The Rock - so we all wait on the edge of our seats to see how Brian and Eric will work him into the theme of the day.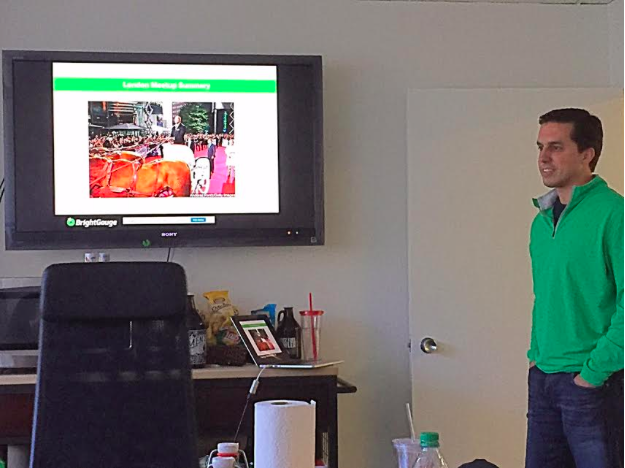 Brian closes with a shoutout to The Rock

While our Rambo Pizza meetings continue to progress with new teammates, new restaurants to try and new info to share, the important part is collecting the entire team in one spot to collaborate. Stay tuned for more updates on our evolution with a fresh venue coming soon - at the new and improved BrightGauge headquarters!


Free MSA Template
Whether you're planning your first managed services agreement, or you're ready to overhaul your existing version, we've got you covered!