BACK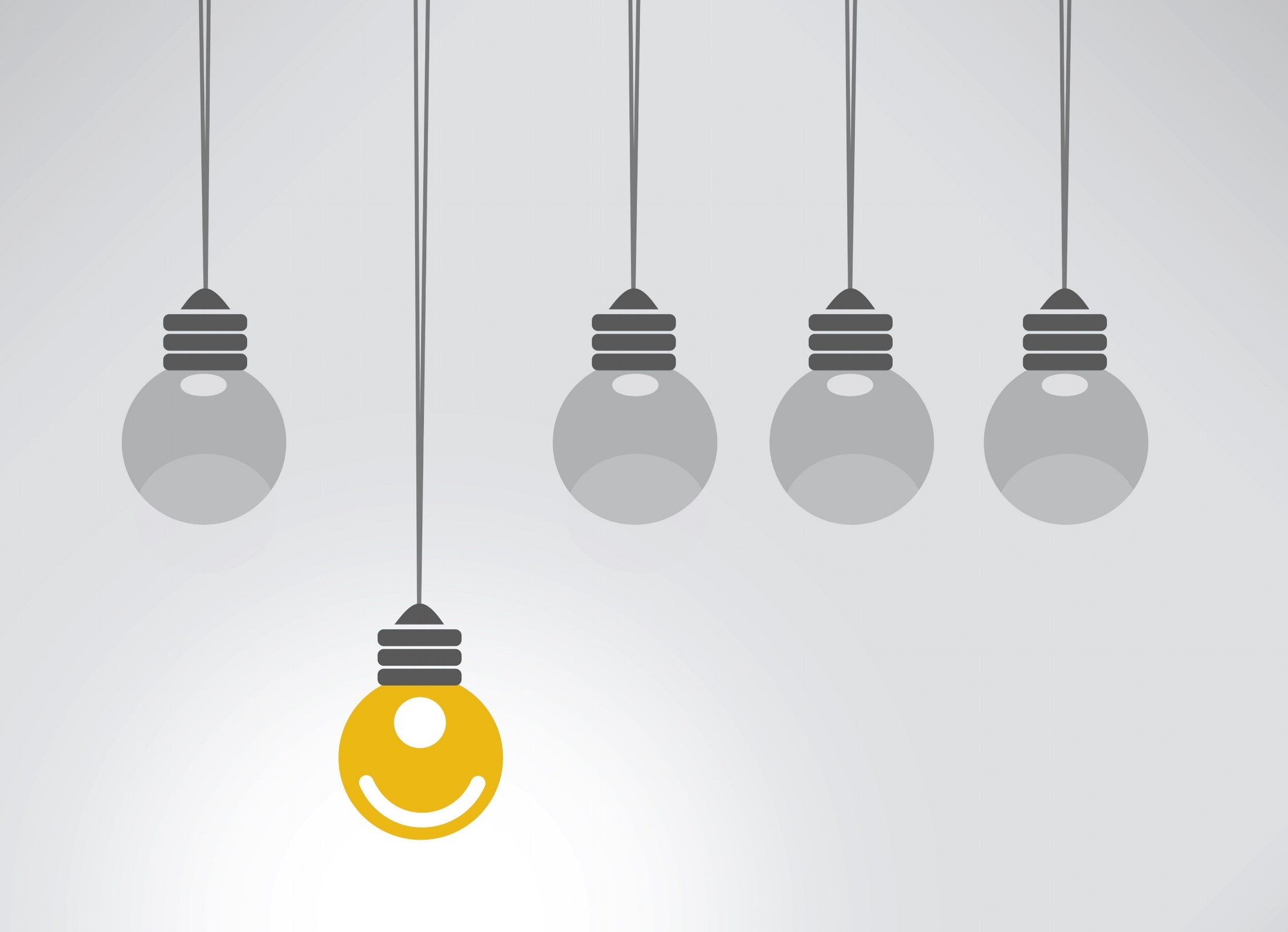 Service

|
Read
The Top 5 Tips for Managing a Service Team [a Customer Poll]
Amanda McCluney November 15, 2016
When it comes to managing a Service Team, every MSP business has their own unique operations, policies, and procedures. But there are also quite a few best practices that we hear our customers talk about from time to time, and we decided it's time to put those ideas in the spotlight!
Our informal panel of experts was made up of Karl Fulljames, VP of Operations at Nucleus Networks, Nick Olerud, Director of Technology at Netrix IT, and Simon Smith, Operations Manager at Air-IT. We asked each of them to share a few gems of advice out of their day to day management techniques, and here's what they had to say: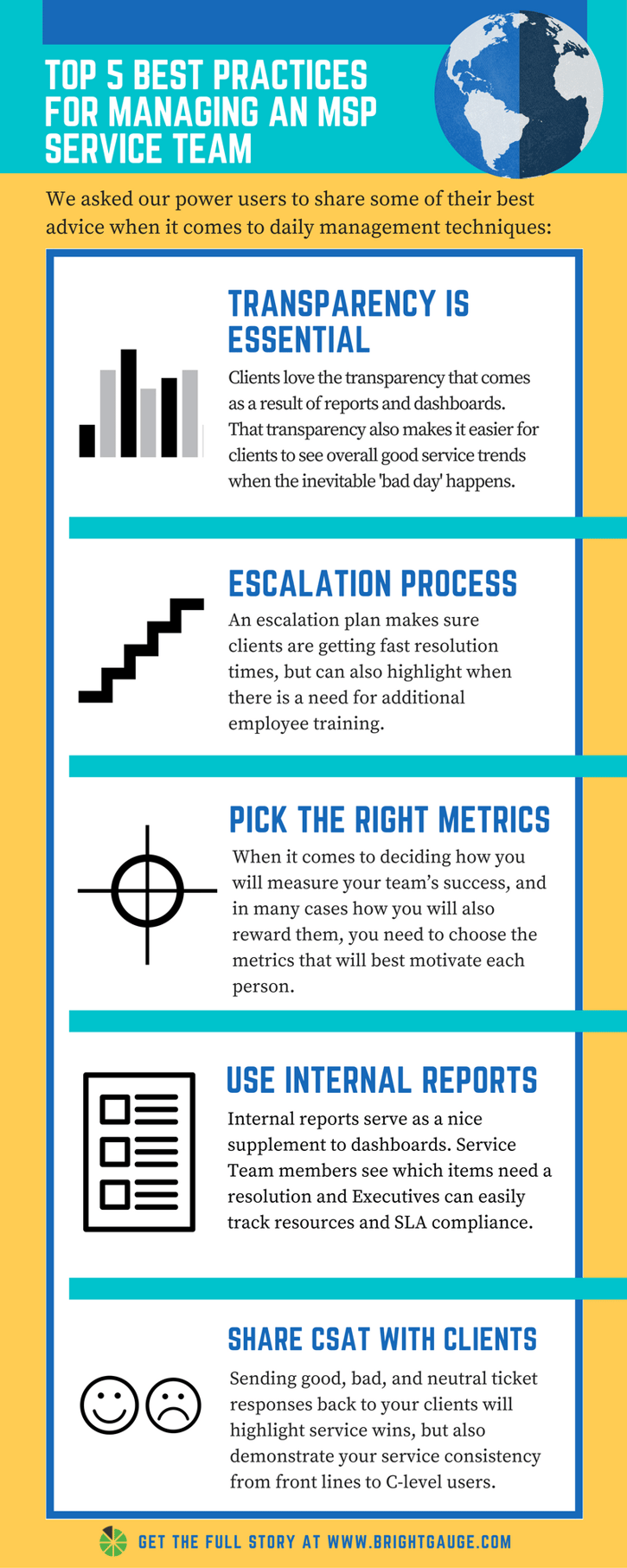 1. Transparency is Essential
Having the ability to do automated reporting and dashboards makes it easier than ever to keep clients in the loop when it comes to the work that the Netrix team is in charge of every day. And as Nick explains, clients love the transparency that comes as a result of reports and dashboards, and they're excited that Netrix can produce any of the data they want to see. In fact, the transparency factor is a major differentiator when Netrix meets with prospective clients who are shopping for a MSP solution because the dashboards hanging around their office attest to the level of service that they provide.
Nick goes on to say that "transparency also makes conversations with clients much easier if there is a bad week or day because they can see the overall trend of good service. It's easier for clients to understand that mistakes happen and no one is perfect."
When it comes to his service team, transparency resulting from reports and dashboards also helps to show if his team is struggling to keep up or needs additional training. If the data shows that the team is up to par on their service but there are still delays, then it's easy for Nick to see when it's time to hire additional team members.
"Dashboards have gamified our work, especially the leaderboard gauge. It really sparked some competition in the team - they want to get that little medal next to their name and keep growing. We do a lot of gamification of things at Netrix, so that really fit well with our culture and they have embraced the transparency. They take a lot of pride in their numbers," explains Nick.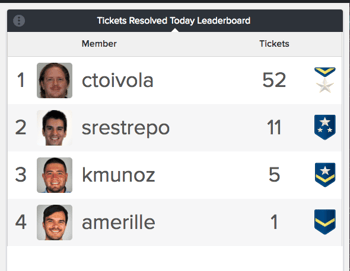 An example of the leaderboard gauge with medals
2. Implement an Escalation Process
When it came to resolving tickets, Simon and the team at Air-IT noticed that some of them seemed to get stuck in the workflow, while others were quickly settled. To help standardize ticket resolution times, Simon implemented a system with a time limit on how long technicians should hold on to a ticket before it is escalated.
As Simon explains, creating an escalation process "is also a way of making sure people have skills and knowledge to deal with issues before they pass it along." When tickets are escalated, it's an easy reminder to review and evaluate whether or not there is a need for additional employee training.
Additionally, Simon put a process in place where his team calls clients at two points during the day to ensure they are properly kept up to date and to ensure that Air-IT isn't missing any important updates. As a result, Air-IT noticed a large reduction in the number of incoming phone calls, particularly in the afternoon. By preempting the wave of calls, more resources are free for other tasks, and as a result there has been an improvement in CSAT scores.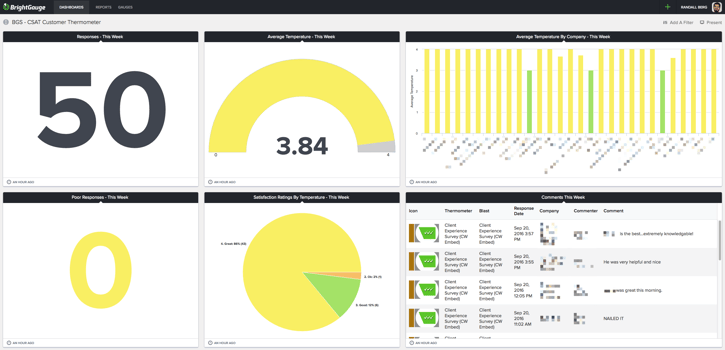 Tracking CSAT alongside your other metrics is simple with Customer Thermometer


3. Pick the Right Metrics for Your Team
Picking the "right metrics" will look a bit different for every MSP team, depending on your KPIs. We've talked before about how to choose the most powerful KPIs for your organization, but our panel clued in us on some of the metrics that are most important to them, as well as some of the metrics that they caution other MSPs to think twice about:
Karl was quick to point out that metrics aren't everything, but they do help to improve and highlight things that need to be done. For example, he explains that every service team will have members who are problem solvers by nature - people who are willing and even excited about digging into a complex ticket and seeing it through to the end. On the other side of the coin are team members who prefer to solve numerous quick tickets throughout the day.
That's why when it comes to deciding how you will measure your team's success, and in many cases how you will also reward them, "you need to choose the metrics that will best motivate each person," Karl explains. He gives an example with "total ticket count per tech could easily turn into a metric that pushes some on your team to 'cherry pick' the tickets they want to work on, because they're looking for the tickets that are easiest to solve. Meanwhile, the teammate who only had 3 tickets in a single day may have a larger effect on the big picture because they solved the root problem that will avoid 18 additional tickets from being created."
So what about metrics that you should consider using? For technicians, Nick likes to use time utilization so that he can see where they are spending the most time. In some cases, ample amounts of time spent on one ticket could be a red flag that the tech needs more training on a particular topic.
Nick goes on to say "For our project team, we want to see how much billable work they are doing in a week. We have a percentage of their time that must be billed each week that will go on top of our recurring revenue. Now it's easy on a daily or weekly basis to see how much of our time is spent on billable. It keeps us on top of our numbers so that at the end of the month, nothing has fallen through the cracks."
For Simon's team at Air-IT, there is a particular focus on the 6 KPIs that are a brand promise to all their customers, which can also be found updated on the company's website each month. With dashboards on the wall near their service desk, they keep an eye on Average Waiting Time, Reactive Tickets Closed, Same Day Fix (Calls), Same Day Fix (All Sources), Overall SLAs Met, and Client Satisfaction.
4. Reports Can Be Used Internally
Reporting is two-fold: most MSPs are familiar with the idea of client reporting, but there are also more and more MSPs who utilize internal reports for their teams.
Internal reports can serve as a nice supplement to dashboards. Service Team members can easily see when there are items that need attention or a quick resolution, whereas leaders and executives can use reports to track resources. As Karl relays to us, reports make it easy to see which clients are in excess of their SLAs and then the Service Manager can take next steps accordingly:
"It's much easier to collect more money when you have the proof of what the team is actually doing that is outside SLA agreement, or when there are problems caused because the client didn't move forward with recommendations (such as new hardware). The reports help to generate revenue, and also free up techs to focus on other paying clients," says Karl.
5. Share CSAT Results with Clients
Each month, the team at Nucleus Networks reports back to every client with an assessment of good, bad, and neutral ticket responses. Not only does it highlight the obvious service aces, as well as areas that need to be improved, but it also demonstrates Nucleus' level of service consistency. As Karl explains, their clients love to see how their team is treated across the board when they call in - not just VIP treatment for executives, but quick resolutions for their entire team.
"At the end of the day, an executive who gets fast help may not be the right primary focus if their support level team who are 'in the trenches' so to speak are not also getting the same level of help," explains Karl.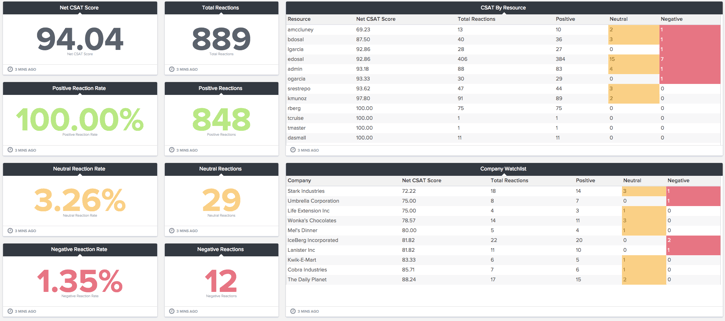 Our SmileBack integration makes it easy to share positive, neutral, and negative customer reactions
Conclusion
While there is no exact formula for managing a Service Team, there are a handful of general ideas that we hear over and over from our customers:
Transparency is essential for teams and for clients
Put an escalation process into place
Choose the best metrics for your team
Create reports for internal use
Share CSAT feedback with clients
Learn more about best practices for managing a service team by downloading the free webinar that we co-hosted along with Nick Olreud of Netrix IT:
Free MSA Template
Whether you're planning your first managed services agreement, or you're ready to overhaul your existing version, we've got you covered!