BACK
Best Practices

|
Read
Why You Need One Dashboard For Each Client
Susan Perez October 12, 2018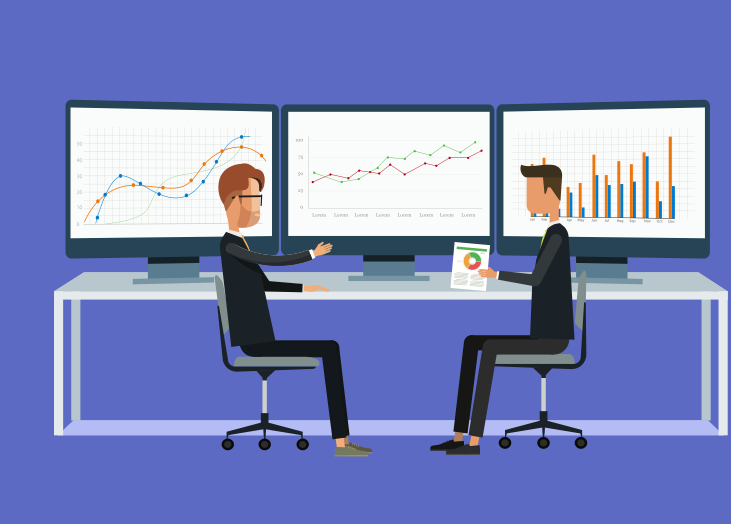 Without a doubt, a key focus of your business is maintaining your client relationships and consistently showing them your value.
You do this by reporting on your SLAs (both the good and the bad) and making sure your lines of communication are constantly open.
Are you also creating dashboards for each of your clients? Doing so can help you be even more proactive in your work and can make your client relationships even stronger.
Here's how.
What dashboards do
Business intelligence dashboards put up all of your important KPIs in one easy-to-access place. With one quick glance, you can see where you stand at any moment in time, which helps you to make faster and better business decisions.
BrightGauge dashboards sync on a regular basis, so the data you're looking at is always up to date. Plus, BrightGauge integrates with many popular business tools on the market, so you can see your PSA, RMM, and financial data side-by-side.
Having a true handle on your data can make you a sharper business leader. Knowing where you stand when it comes to your KPIs, employee goals, and urgent matters that require attention means there's much less of a chance that anything is ever going to fall through the cracks.
Dashboards per client

Your time is valuable, so anything you can do to maximize it is a win. Data analysis and reporting has the potential to be pretty complex and time-consuming but not if you're utilizing dashboards.
Creating an individual dashboard for each of your clients can really help you to be focused and proactive about servicing their needs.
To do this, take a look at each SLA per client to understand what metrics are going to be most relevant to them.
For example, if you're managing a client's service desk, you're going to want a dashboard that looks at currently open tickets, tickets closed, average response time per ticket, technician hours, and more.
Or, if you're in charge of your clients devices, your dashboard should include number of endpoints, servers offline, disk space usage, machines with expired warranty, and so on.
Breaking this down by client will help you streamline your operations so you can provide better service to clients facing urgent issues.
If you've got clients that like to surprise you with random check-ins, having their custom dashboard at your fingertips ensures you're prepared to answer any questions they may have.
Plus, dashboards just look really good, so if your clients drop in for a visit, they'll be impressed by the way you handle their data. They'll see super important KPIs out in the open and they'll trust that you're serious about keeping their business - and your relationship - intact.
How to display your dashboards
Do you have several screens in your NOC? If yes, then we suggest putting each client dashboard on a single screen. That way, you can monitor what's going on with each client at all times and keep an eye on your thresholds to make sure you catch urgent issues immediately.
But you can still do this even if you don't have access to one screen per client (which is more probable).
With BrightGauge, you can rotate several dashboards on one single screen. It's really easy to set up.
When you're viewing a dashboard in your BrightGauge, click on the TV icon found in the top right corner of your screen, which will bring up two options: Single Dashboard and Rotate Dashboards (this is the one you want to choose).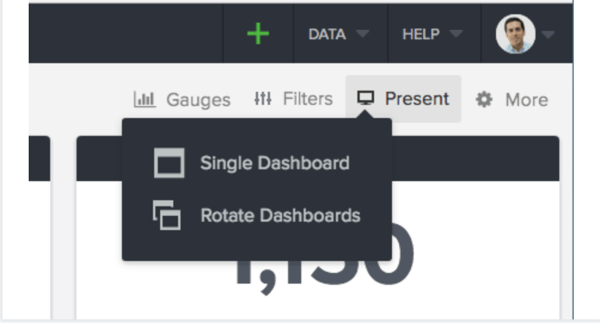 Next, you'll create a playlist of up to 10 dashboards. By default, they'll rotate every 2 minutes, but you can change it to 30 seconds, 1 minute, or 5 minutes.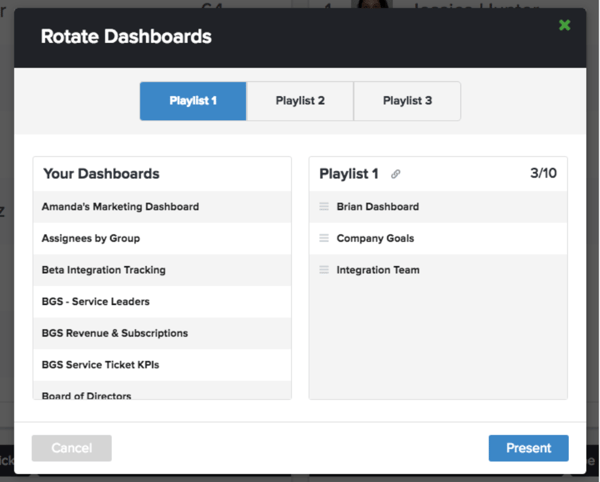 That's it! Now you can keep an eye on several important dashboards throughout the day.
The added benefit of individual dashboards
When it comes time to generate reports, you'll already have all the data you need for each client. Reports are based off of the gauges and dashboards you're already using, which means you've already done most of the work.
It will take you just a few minutes to customize your report and schedule it to send off to your clients on a recurring basis, on the date and time you choose.
We highly suggest you get in the habit of sending regular client reports. They reinforce your value, show that you're willing to be transparent all the time, and ultimately build a foundation of trust that leads to long-lasting client relationships. Long-term clients bode really well for your business.
For more on how dashboards can help you run a more efficient business, watch our free webinar 'Dashboard Best Practices'.
Free MSA Template
Whether you're planning your first managed services agreement, or you're ready to overhaul your existing version, we've got you covered!